With the new year on January 1, 2021, the state will also see changes in the rules for ration cards, Aadhaar card amendments, gas cylinders, driving licenses and FasTeg as follows.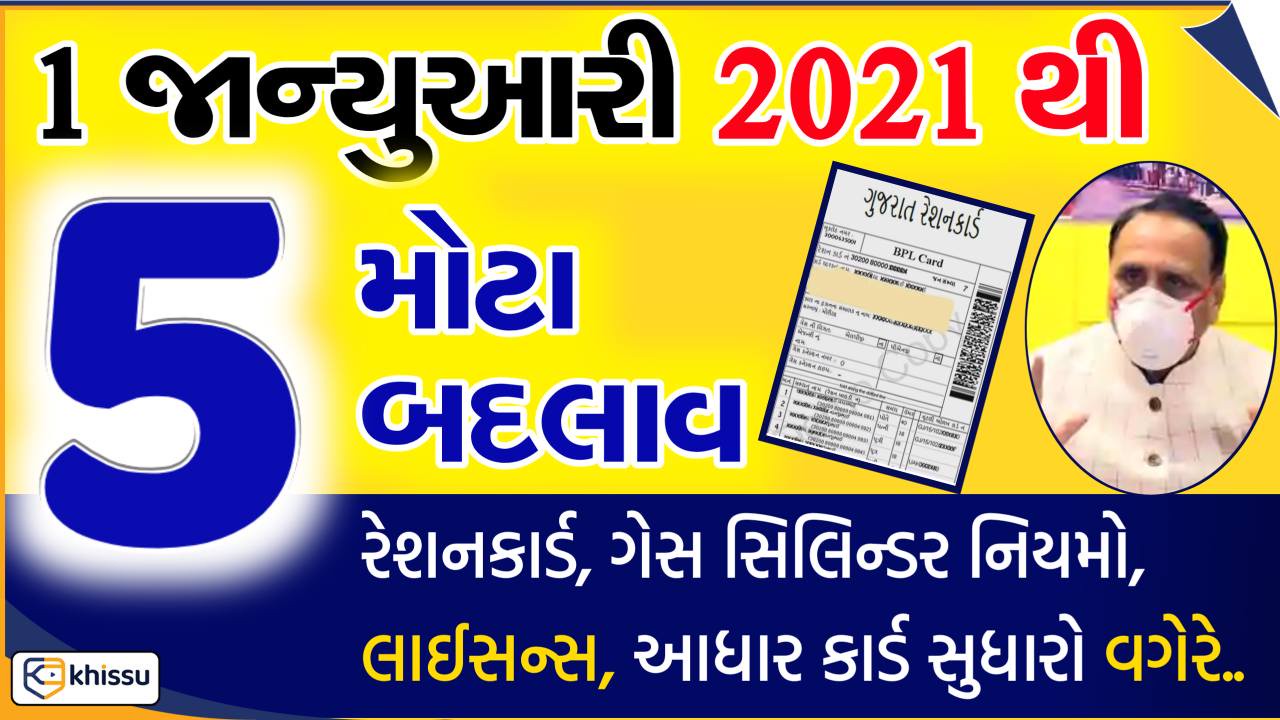 1) More 10 lakh ration card holders will get foodgrains.
As per the announcement made by the state government in October, one million new families will be included in the NFSA Ration Card and will be given regular foodgrains by the Gujarat government from January.
Under the National Food Security Act 2017, new ration cards will be issued to those who are left behind and join the NFSA as per the new rules and regulations.
This process will last for 30 days in Gujarat (which is currently underway)
The name of this process is Annapurna Yojana which you can visit the Mamlatdar office or zonal office to fill the form and convert your ration card from non NFSA category to NFSA category.
Evidence required to fill the form in Anna Purna Yojana:
1. Attach income sample (Mamlatdar in urban area and Taluka Development Officer in rural area)
2. Xerox of ration card
3. Aadhaar card of all members
4. Xerox of the bank passbook of a member whose name is in the ration card
5. Xerox / rental of lightbill
6. If there is land in one's own or father's name, it is a copy of A-A.
7. Example of Revenue Talati cum Minister if he does not have land.
8. Xerox of election card.
In October, the government ordered that 60,000 new people be added in 60 days, such as those benefiting from the extremely poor, backward, widow assistance scheme, receiving pensions, disabled, handicapped, BPL not included in the NFSA. No ration card holders, three wheeler drivers, rickshaw pullers, daily earners, registered workers of the Construction Workers Welfare Board can fill up the form and avail the benefits.
2) The price of LPG gas cylinder will change every week.
Oil companies used to fix the price of gas cylinders at the beginning of every month but now from January 1, prices will be fixed every week i.e. prices will be increased or decreased.
The current price of an LPG gas cylinder is Rs 707 which can be further increased or decreased.
3) Driving license will be renewed at home.
Your raw driving license will be renewed at home after January 1, 2021. You do not need to go to RTO.
Until now, the rule was that if your raw driving license expired (6 months), you had to go to the RTO and renew the license, but now you can renew it online from home.
The renewal system from the Department of Vehicle Transactions has been made available on the website of PARIVAHAN.GOV.IN.
So you can renew your license and print it online from this website.
4) FasTeg mandatory
After January 1, it will be mandatory to have a fastag on your vehicle to pass a four-wheeler from the National Highway Toll Plaza.
If no vehicle is fitted after January 1, they will be charged double.
With this you have to have a minimum balance of Rs 150 in the Fastag account.
5) The new Aadhaar card service will be launched.
Aadhaar card making agency (UIDAI) has announced a new service. Under it you will be able to reprint the new Aadhaar card.
Earlier, if your Aadhar card was lost, it would not be printed but now if the Aadhar card is lost, you will be able to print it again.
You can apply for a new reprint from their website by paying a charge of Rs.
For More updates like this, you can visit the sites given below:
NOTE:
Please always Check and Confirm the above details with the official website - Thanks for visit this useful Post, Stay connected with us for more Posts.

IMPORTANT LINK:: News Sourse By Daily News Hunt